Master's in Public Administration (MPA)
The Tsinghua University School of Public Policy and Management (SPPM) Master of Public Administration (MPA) program was founded in the year 2000 and began student intake in 2001. It was among the first group of 24 universities accredited by China Academic Degree Committee of the State Council to offer professional MPA degrees in China.
The MPA program at SPPM is a professional graduate degree designed to prepare students for the challenges of leadership and management in the public sector. Most of the MPA students are working professionals with 3-15 years of experience in the government, NGOs and business sectors. Fields of special concentration include: operation of the government of China, international affairs and strategic management, international economic theory and practice, organizational theory and behavior, education management, regional development and urban governance, urban and regional economics, and modern urban governance. The MPA program maintains a high completion rate. For example, of the class which entered the program in 2006-2007, 58% graduated within 2 years and 100% of the class graduated within 5 years. Currently, there are 154 students enrolled in the MPA program.
Since 2005, SPPM has started a unique program aimed at providing quality MPA education to senior government officials throughout the country and abroad. In the first national MPA evaluation in 2006 by the National Steering Committee for MPA Education, the MPA program at SPPM was ranked "excellent" in all categories evaluated, making it one of the only two programs in the country to achieve this honor.
The School of Public Policy and Management's MPA program at Tsinghua University has greatly benefitted from China's rapid economic and social development and the deepening process of globalization. MPA students are able to take part in internships, research projects, and lay a solid foundation for their career development through the close working relationship of the University with the Chinese government, local government, and various NGOs. Meanwhile, close linkages and partnerships have been forged with world-renowned universities, major international organizations, research institutions, and multinational corporations. The School's long-term objective is to become a world-class institution that actively engages in teaching, research, and consulting in global public affairs. The School is building upon the long tradition of nurturing public leadership in China at Tsinghua University.
The school is fully committed to the principle of equal opportunity in both education and employment. We do not
discriminate against individuals on the basis of gender, nationality, or disability.

The MPA program is taught entirely in Chinese.
School of Public Policy and Management
Master of Public Administration (MPA) program
(Considered and Adopted by the Degree Sub-Committee on September 25, 2018)
I. Mission
Cultivate a new generation of leadership in Chinese and global public affairs, to lead the country's development and human progress, development, and human progress.
Graduates and degree holders should uphold the glorious tradition of Tsinghua University's patriotic dedication; pursue the ideological realm of hearted devotion to public interests; face the practical frontier of China's reform and social development; face the actual needs of global governance and international development; master the theory, knowledge and techniques of modern public management systematically; promote organizational innovation and social change effectively; thus leading the country's development and human progress
II. Degree Requirements
The student pursuing a Master of Public Administration (MPA) degree is required to obtain 18 credits of core courses, 14 credits of elective courses, 2 credits of "Frontiers Classes", and 2 credits of Professional Practice. The student will undertake no less than 36 total credits.
Duration of Study and Learning Options
The duration of the study will be from 2.5 to 4 years, after fulfilling all the credit requirements. There are three learning options: a) Part-time study, taking classes over the weekends and evenings; b) Part-time study, taking classes in learning modules, each lasting 6-8 weeks, offered twice a year.
III. Curriculum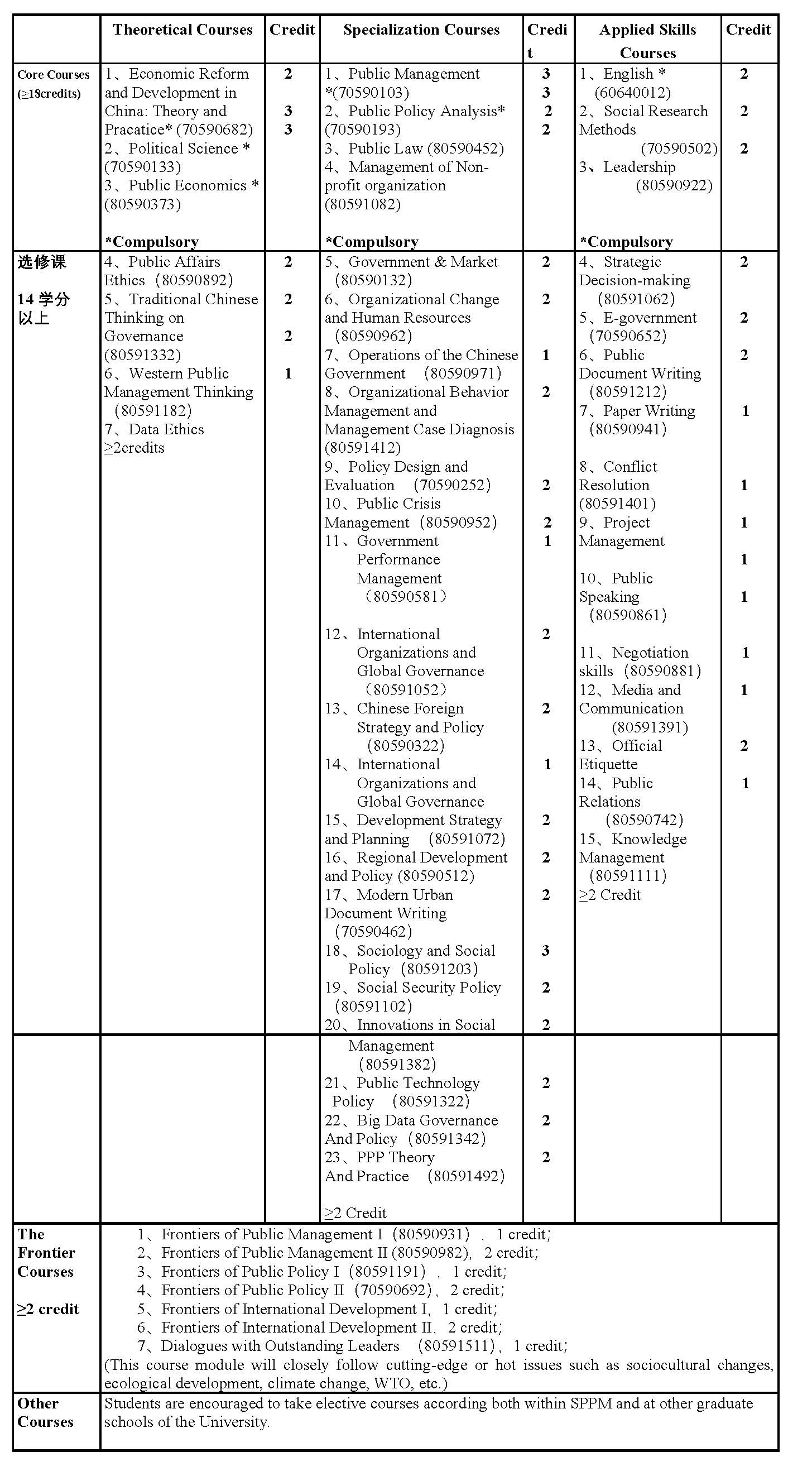 IV. Professional Practice (2 credits)
Students are required to participate in professional practice, including conducting field studies and attending open lectures and symposium, and passing the defense for their thesis prospectus.
V. Master Thesis
Under the guidance of their advisors, students must independently write their Master Theses with no less than 20,000 words. These topics must be closely related to the contemporary public management practice, and fully reflect the students' mastery of public management theory and methods to solve practical problems. Please refer to "The Basic Requirements of the Tsinghua University MPA Graduate Thesis" for more details.